Are you planning your dream wedding and looking for the perfect kilt to complete your traditional Scottish attire? Look no further! Kilts have long been a symbol of pride and heritage in Scottish weddings, and choosing the right one can make all the difference on your big day. However, with so many kilt hire services available, it can be overwhelming to know where to start. That's why we're here to help you find the perfect fit for your special day. From tartan options to sizing and accessories, we'll guide you through the process of choosing the right kilt hire service for your wedding kilts.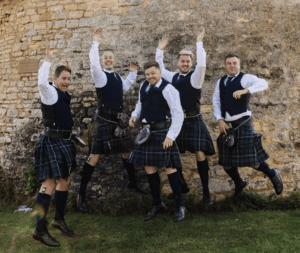 Featured image credit – Amara Grace Photography
Unfolding the Scottish Tradition: The Significance of Wearing a Kilt
As we delve into the world of wedding kilts, it's essential to understand the rich Scottish tradition and significance behind wearing a kilt. A long-standing symbol of Scottish pride and heritage, its history dates back centuries. The kilt represents a connection to Scottish clans and a celebration of Scottish culture.
Wearing a kilt on your wedding day is more than just a fashion statement; it's a way to honour your roots and pay tribute to the traditions of Scotland. The kilt showcases a sense of pride and respect for Scottish heritage, making it a meaningful choice for any groom or groomsman.
Not only does wearing a kilt connect you to your Scottish ancestry, but it also adds an air of elegance and uniqueness to your wedding attire. The timeless appeal ensures that you will stand out from the crowd, creating a memorable and unforgettable look for your special day.
In addition to its cultural significance, it is also a practical choice for a wedding outfit. The versatility allows for comfort and freedom of movement, ensuring that you can dance the night away and enjoy every moment of your wedding day.
Factors to Consider When Choosing a Kilt Hire Service
When it comes to choosing a kilt hire service for your wedding, there are several factors to consider. First and foremost, you'll want to ensure that the company has a wide selection of kilts to choose from. Whether you're looking for a traditional tartan or a more modern design, having options will allow you to find the perfect kilt to match your personal style and wedding theme.
Another important factor to consider is the reputation of the kilt hire service. Look for reviews or testimonials from previous customers to get an idea of their quality and customer service. You'll want to work with a company that is reliable, punctual, and responsive to your needs.
Price is also an important consideration. While you may be looking to save money by hiring a kilt instead of buying one, it's still important to compare prices and ensure that you're getting a fair deal. Keep in mind that cheaper doesn't always mean better, so be sure to weigh the cost against the quality of the kilts and services provided.
Finally, don't forget to consider the logistics of the kilt hire service. How far in advance do you need to book? Do they offer delivery and pickup services? Can they accommodate last-minute alterations or adjustments? These are all important questions to ask when choosing a kilt hire service for your wedding.
Styles, Designs and Colours: Picking out the Perfect Kilt for Your Wedding
When it comes to choosing the perfect kilt for your wedding, there is a multitude of styles, designs, and colours to consider. Whether you want a traditional tartan pattern to connect with your Scottish heritage or a more contemporary design to suit your personal style, the options are endless.
One popular choice is the classic Scottish tartan, which comes in a variety of colours and patterns. From the vibrant reds and blues of the Royal Stewart tartan to the muted greens and browns of the Black Watch tartan, there is a tartan for every taste.
If you're looking for something a bit more unique, there are also kilts available in solid colours or with subtle patterns. These kilts can be a great way to add a modern twist to your wedding attire while still honouring the Scottish tradition.
When choosing the design and colour of your kilt, it's important to consider the overall look and theme of your wedding. Think about the colours of the bridesmaids' dresses and the flowers, and try to choose a kilt that will complement the rest of the wedding party's attire.
Beyond the Kilt: The Complete Scottish Wedding Outfit
When it comes to your wedding day, it's not just about the kilt. To complete your Scottish wedding outfit, there are a few additional elements to consider. One essential accessory is the sporran, a traditional Scottish pouch that hangs from the belt and adds a touch of elegance to your ensemble. Choose a sporran that matches the style and colour of your kilt for a cohesive look.
Another key component is the kilt jacket, which is typically made of tweed or velvet and adds a layer of sophistication to your outfit. Finish off your look with a traditional sgian dubh, a small dagger that is tucked into your sock. This accessory is not only a stylish addition but also carries historical significance. With the complete Scottish wedding outfit, you'll look and feel like a true Scottish gentleman on your special day.
Ensuring a Perfect Fit: Measurement Tips and Tricks
To ensure a perfect fit for your wedding kilt, it's important to take accurate measurements. Here are some tips and tricks to help you get the right fit.
Use a flexible tape measure to measure your waist, hips, and length from waist to knee. Be sure to measure at the widest part of your waist and hips for a comfortable fit.
Consider the rise of the kilt, which is the distance between the waistband and the top of the kilt. This measurement will determine how high or low the kilt sits on your body.
What additional adjustments might you need? Hemming the length or adjusting the waist?
But you don't have to worry about that because that's what we are here for. At Salters of Rugby, our Kilt Hire solutions provide you with a  full service from start to finish. Why not make an appointment to discuss your requirements?