When hiring a suit for an occasion; there are many things to consider. We take a look at five top tips when choosing a Warwickshire suit hire company:
Dress for the Occasion
First you need to consider the occasion and the dress code. Often an invite will specify whether it's formal attire, casual wear, smart casual etc. There is a certain etiquette to follow. For example, black tie events mean you should opt for a single or double-breasted dinner jacket. Then there are rules to follow for the type of shirt you should wear too. If you are going on a cruise, the chances are you will need options! There will be a formal captains dinner where you may opt for either a dinner jacket or a more modern slim fitting suit and tie. It's always advisable to check as different cruise liners have different dress codes and standards.
Accessorise
Choosing a suit is your first task but you also need to accessorise.
Bow tie and cummerbund for dinner jacket
Silk lapels
Single or double cuffed shirt?
What sort of collar on the shirt?
Shoes
If you are going for a posh day at the races, will you be wearing top hat and tails? If so, you will need to hire a top hat too!
Hire or Purchase
First of all, let's discuss the benefits of Warwickshire suit hire! If you're not the suit wearing kind and you only wear them for weddings, funerals and special events, you may not want to invest in purchasing a new suit. Especially if it's going to hang in your wardrobe for years at a time without seeing the light of day. The alternative is to hire! Hiring a suit means you never have to be seen in the same outfit twice as well! If you're the type that likes to mix it up and not be seen in the same suit more than once, it can rather expensive plus you soon run out of room in your wardrobe. Instead you can hire and always have a fresh look. There are some circumstances when hiring is a must.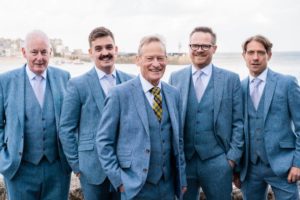 Take weddings – all the groomsmen need to dress the same, their cravats and handkerchiefs need to match the bride and it has to be something that the bride approves of, that goes with the theme of the wedding. When you need several suits, the cost can soon mount up. Not everyone wants to buy a new suit for a wedding. Instead, it's much more cost effective to hire – the cost of which is usually met by those paying for the wedding.
Personal Service and Advice
Do you have an event coming up when you're busy not sure what you should wear? What's the etiquette for dressing for a cruise or for the races? What should you be considering when choosing wedding suits? Do you need to involve the bride and other family members in the decision making process?
There is something much more personal about visiting a specialist Warwickshire suit hire company than going to buy a suit from a High Street shop. You get a bespoke, personal service with advice, a warm welcome and exactly what you are looking for. For those not sure about etiquette for certain events, it's a perfect opportunity to ask questions and get helpful advice from experienced experts.
Plenty of Choice
When hiring a suit, you may be looking for something different from a Warwickshire suit hire company. Perhaps you want something more colourful, a different style, a kilt or perhaps you have a very specific idea about colour.
When choosing a suit hire company, make sure that they offer that there is plenty of choice so that you find what it is that you are looking for. In addition to the suit itself, you want to be presented with a choice of accessories so perfect your outfit and make sure you stand out in a crowd for all the right reasons.
Choosing a Warwickshire Suit Hire Company
At Salters of Rugby, we believe you won't find better than our extensive selection of suits for every occasion alongside our array of accessories. We guarantee personal service, reliability and experience and knowledge that will make your suit hiring procedure seamless!