The first step in choosing a suit for prom is to decide on the type of style you want to go for.  Smart, informal, formal, suit, tux, blazer… This will largely depend on the dress code but it's a chance for you to express your unique style and dress as you want to.
A suit is always a great option as you are likely to get use out of it in the future for college or job interviews, for example. If you really want to dress up then you could opt for a tux which is a more formal option alternatively, you may prefer to go for a blazer to wear with a pair of trousers either in a similar or different colour.
Will you choose a 2 piece or a 3 piece suit? Maybe you don't want to go for a full on tux but you want to look smart – a 3 piece suit as the edge over the 2 piece here. Also, if you choose a 3 piece suit, you don't always have to wear the waistcoat.
The Fit
When it comes to the fit of a prom suit, should you choose slim, skinny or tailored? You need to feel good and look good so be sure to match the suit to your body type.
Skinny Fit
With narrow lapels and shoulders, a skinny fit suit has a shorter jacket and narrower legs. It's a great fashion look for those young lads that can get away with it.
Slim Fit
A narrow fit around the shoulders, chest, waist and sleeve, the addition of tapered trousers gives a sharp modern look and suits the slight, slim or medium build.
Tailored Fit
A flattering g fit with rook to breathe. The jacket is tapered at the waist with classic lapels and tapered trousers. This is a style that suits all builds – slim, medium and large.
Of course, at Salters of Rugby, we will be more than happy to help you find the best look for your prom suit.
The Colour of Your Suit
You're young, maybe finding your style, perhaps you are super confident, maybe you don't like to stand out in the crowd. The colour is a chance to express yourself and add individuality or blend in.
Black
Classic, sophistication. A timeless colour that works well for anyone. Think Bond! Always good to have a black suit hanging in the wardrobe.
Grey
Perhaps you don't want to be as sombre as black and instead want to opt for something neutral but a bit lighter. You can add colour to the prom with the tie or a pocket square matching the corsage/dress of your date.
Blue
A popular choice and a range of options. Navy blue, light blue, midnight blue… you have a few options to choose from.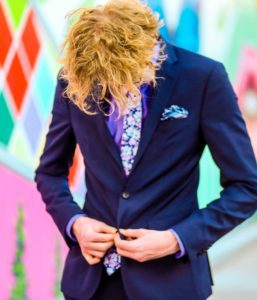 Brave and Bold Colours
Green, plum, burgundy… be the talk of the prom with something that stands out. Have fun coordinating different accessories too to really pull off that individual look.
Choosing a Shirt
When it comes to the shirt, you need to match the fit of the shirt to the fit of your suit – skinny, slim or tailored. A formal shirt is recommended in this instance rather than a regular shirt. If you have a dark suit, you can contrast it with a light shirt or you can add some colour to a neutral suit.
Accessorise
Accessories are very important as the devil is in the detail. You need to make sure they everything fits well together and that your colours don't clash. Let's take a look at those all important accessories – an important part of choosing a prom suit.
Ties/Bow Ties
Suit with a tie, tux with a bow tie. Use the tie to complement both your suit and your date's outfit. If your shot and shirt are lacking colour, match your tie to a pocket square to add some contrast.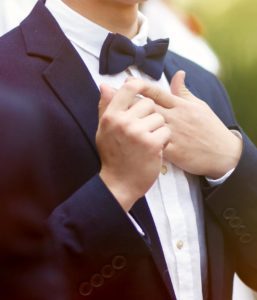 Cuff links
Add some flair to your look with a pair of cuff links. You can get so many different types and styles to add a sophisticated finish to your outfit.
Pocket Squares
Match the pocket square to either your tie, your dates dress or use it to contrast and add some wow to your attire.
Socks
Socks should be longer than the bottom of your trousers. You should not show any leg when you sit down. Colour wise, that's up to you but wear some new socks. Don't ruin a good suit with bad socks.
Shoes
Tan/brown shoes are a very popular choice especially with a grey or blue suit. Definitely not with a black suit! Black can only be worn with black.
Belts
Don't be tempted to wear that old belt hanging in your dads wardrobe! Get a new belt so that you don't attract unwanted attention to your outfit.
Braces
Belt or braces – not both. If you don't fancy a belt, why not add some class with a pair of braces?
Choosing a suit for prom should be an enjoyable experience. At Salters of Rugby, we are here to offer the benefit of our expertise and can ensure that you look the part for this special and momentous occasion. If you would like to book an appointment, simply click here.